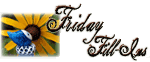 I joined last week, that was my first entry supposedly but I my post was not recognized. Aunt Grace of Gracia Fashionista advised me to place my first entry upon posting my link so I can attract many visitor to view my post. Let me see if it gonna work.
1. My favorite month is
December
because
this is a time where we can have family reunion
.
2.
I want to breath
a fresh breeze.
3. I love to sniff
the aroma of
brewed "starbucks" coffee
.
4.
"Pancake with syrup"
is what I like to have as a treat for breakfast.
5. The hobby I enjoy most is
reading.
7. And as for the weekend, tonight I'm looking forward to
have a dinner date with hubby after our Bible Study
, tomorrow my plans include
backyard gardening and wash mountain of clothes
and Sunday, I want to
be refreshed with God's word
!
Friday Fill-in is back, I enjoyed filling up the blank. You will if you link to: