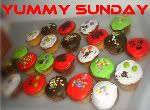 " Spaghetti" an Italian food that has become part of Filipinos celebrations. Gathering would not be complete without this goody on our table. Filipinos have different way of cooking that soothes their taste and appetite. Some would like it sweet, other love it spicy topped with herbs, while others enjoy it a little sour and sweet.
My kids love this stuff but they are choosy of the taste. They prefer not too sweet and not too sour but saucy. They only eat spaghetti that I and "ate Pie" cook. Even my brother would always long to taste the spag that I cook. They always look forward to New Years and other special occasions. They say my spag is different from others it is the best Spaghetti from their point of "taste" I mean view.
I make it sure that the pasta is not over cooked it should be firm. And the sauce should have a blend of Filipino taste and an Italian. I do not add condensed milk as others did. I add mushrooms sliced into bits, I use del Monte Spaghetti sauce,the pasta is also DM and the top secret of my recipe is del Monte Pineapple juice. It enhances the taste of my spaghetti!